---
Warbirds
---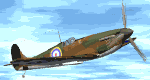 Les avions suivants sont pour la plupart encore en vie et animés par The Fighter collection, The Old flying Machine Company, The Battle of Britain Memorial Flight, L'AJBS, Forteresse toujours volante... et j'en oublie...
A ce jour le Mosquito, le P38, le Buchon , le Catalina blanc et un mustang sont détruits, par accident en vol.
Je tiens à remercier très vivement mon très bon ami Carlos Carvalho pour sa très importante participation.
Following airplanes are still airworthy thanks to The Fighter collection, The Old flying Machine Company, The Battle of Britain Memorial Flight,the AJBS, Forteresse toujours volante...and many others. But Mosquito, P38, Buchon, white Catalina and one mustang are crashed...
I want to give very great thanks to my very good friend Carlos Carvalho for his very important contribution.

Avro Lancaster
In flight 1
In flight 2
Pictures from Duxford 1999

Boeing B17F (G) Flying fortress
In her former colors, from the remake film Memphis Belle
Taxiing
Argh ! pontoise 1998
Ready to go
Aircraft of "Forteresse toujours volante", still in flying conditions ! Actual colors of her war period.

Boeing KC97
Seen at Le Bourget

Chance Vought F4 Corsair
Check list
Taxiing at Rouen
Landing at Rouen
Parking F-AZVJ
F-AZEG taxiing at Cerny
Early production aircraft taxiing
The one at Breitling fighters
3 Corsair F4 in flight together !
Last picture unfortunenately bad : that was not part of the airshow, I got it with 1000mm focal !

Consolidated PBY Catalina
Just arrived at Cerny Beautifull picture by my friend Carlos Carvalho. Crashed.
Parking at Toulouse This aircraft had flown with P. BAUDRY a trip following ancient Aéropostale lines.
In flight
Wheels down

Curtiss P40 Warhawk
Former colors
Ugly monster
Taxiing at Lyon Bron 1991

De Haviland Dragon Rapide
Cerny based
Duxford based
Other one Duxford based

De Haviland Dragonfly
In flight La Ferté Alais 1998

De Haviland Mosquito
Expo at Lille
Engine fairing and landing gear (left) Notice only five exhaust pipes.
That day she had critical engine failure while demonstrating but pilot led her safely to the ground.
One week later she crashed...

Douglas A/B26 Invader
Parking at Lille
In flight
Starting engines

Douglas Skyraider
Passage
In flight !
Expo french colors
Foggy morning and former navy color scheme
Approaching !

Fairey Swordfish
Taxiing at Duxford
On taxiway

Gruman F7 Tigercat
High speed passage
Having rest
Passage Small picture
Passage Small picture

Gruman Wildcat / Hellcat / Bearcat / TBM
War perfume
Expo at Cerny
Hellcat at Cerny !
Bearcat
Bearcat at Toulouse with drop tank
Not common cat
Little plane with big engine
TBM parking
TBM starting engine
TBM taxiing at Cerny
Not common TBM

Hawker Fury 1
Expo in rainy weather at Cerny
Take off from Cerny
Crashed but may be reconstructed.

Hawker Hurricane
Under construction.

Hawker Sea Fury
Preparing for take off
Taxiing

Hispano HA 1112 Buchon


Parking at Duxford


Take off from Cerny


Gear up !


Taxiing at Cerny
Lockheed P38 Lightning
Send me your photos ! Plane crashed : "California Cuttie."
MS 505 Criquet / Fieseler 156 Storch
Under construction
Messerschmitt Bf 109
Nose and engine fairing
Taxiing at St Valery en Caux 1994
Back in the french countryside
Expo at Cerny


Display at Toulouse
Accidented planes Bf 109 G2 and Bf 109 G10. But not destroyed.
North American B25 Mitchell
Taxiing at Duxford
Stopping engines at Lille
Taxiing at Lyon Bron
Engine and propeller
Taxiing at Falaise
North American T6 Texan
Foggy morning at Amiens
Guess what plane is above !
North American P51 Mustang
Taxiing at Le Bourget
Stopping for the photograph at Lyon Bron Plane crashed in 1999.
Expo at Le Bourget Not common aircraft.
Supermarine Spitfire


Mark XIV at Lille
Mark IX taxiing
Patrouille IX / XVI
See the SPITFIRE special page with many photos

Republic P47 Thunderbolt
Send me your photos !
Westland Lysander
Mad machine
Technical problems at Lille
Yak 11


Parking at Cormeilles


Parking at Le Bourget


Seen at Lille


Expo at Lille


In flight


Other aircraft at Le Bourget


Other aircraft at Le Bourget
...
---
Menu
Airliners
Jets militaires / Military jets
Hélicoptères et autres / helicopters and others
Cargo